Submitted by Frank Macey on
Anyone looking for evidence of changes to the internal design of the next iPhone has been busy lately. Several leaks in recent days have piled on proof of a dual LED flash, sapphire home button, and a gold iPhone 5S in the works. Now Nowhereelse.fr shows off the back panel of the iPhone 5S with several updates over the current model iPhone.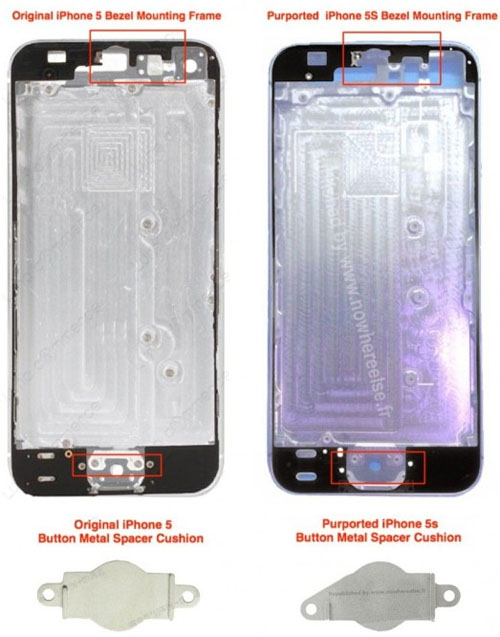 Most interesting are the changes centering around the home button, which can be clearly seen in the photo above. Assuming the part is the real deal, Apple has changed the shape of the home button backplate, also moving the mounting point down on one side. The new part could possibly be designed to retain a fingerprint sensor, and reports have indicated the iPhone 5S will feature a convex sapphire home button.
The new home button design would make it possible to circumvent manual passcode entry, with users simply pressing the home button for instant identity verification. Besides the home button changes, the iPhone 5S back panel features several modified attachment points, which dovetail nicely with previously leaked photos of the iPhone 5S circuit board. Other changes point to space for a dual-LED flash for brighter, more evenly lit flash photography.
Apple is expected to reveal both the iPhone 5S and the plastic iPhone 5C on September 10th at a media event in San Francisco. It's not clear whether or not the company will continue to offer the iPhone 5 or older models for sale at a reduced price after the iPhone 5C release.