Submitted by Frank Macey on
Another report has surfaced indicating Apple plans to launch its next iPhone with a built-in fingerprint sensor. This time KGI Securities analyst Ming-Chi Kuo explains that a new home button design will be convex instead of the current concave design, to accommodate the fingerprint sensor. The sapphire component will prevent scratches, much like the sapphire camera lens cover currently found on the iPhone 5.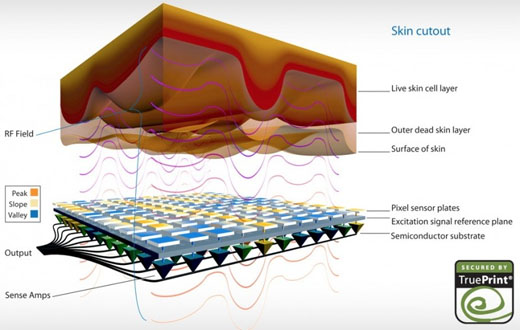 As MacRumors notes, Kuo has a decent track record offering information on upcoming Apple products. Kuo speculates that the iPhone home button provides the perfect place to use fingerprint sensor technology, and that Apple's use of AuthenTec technology would be advantageous. While many fingerprint sensors use optical recognition, this method can be affected by dust and other contaminants.
The convex sapphire home button would use RF and capacitive technology instead, which would prevent recognition problems due to these contaminants. It's not clear exactly how a convex home button would affect the design and use of the iPhone 5S, as the Apple home button has not been changed since it was introduced in 2007. From the research note:
Convex home button creates space for fingerprint sensor; yield to improve. We think that a fingerprint sensor will be placed under the home button of iPhone 5S. However, assembling it could be difficult as the space under home button is limited as it already has to accommodate the Lightning connector, speaker and microphone. Thus, we think the shape of the home button could be changed from concave to convex to create more space for a fingerprint sensor.
Sapphire prevents home button from being scratched. A convex home button could be more easily scratched, so a harder material is required. We believe Apple will switch from plastic to sapphire, whose hardness is second only to diamond. Sapphire would protect the home button from being scratched and the fingerprint sensor from being damaged.
Various lines of code in iOS 7 verify a fingerprint sensor is actually in the works by Apple. So far, no leaked parts have been pictured to help verify the reports of a sapphire home button. Rumors of a fingerprint passcode replacement have been circulating for some time, ahead of the iPhone 5 release. Users concerned about security will find that fingerprint verification technology will save the extra step of entering a passcode, currently needed when accessing a locked iOS device.