Submitted by Frank Macey on
Less than two weeks separates Apple fans from the next generation iPhone event. No surprise that parts leaks are increasing in frequency. In particular, there are new videos and photos of the graphite iPhone 5S, expected to launch alongside the gold flagship smartphone. The latest videos show both back panels in great detail, comparing the new colors to the iPhone 5 in existing colors silver and slate.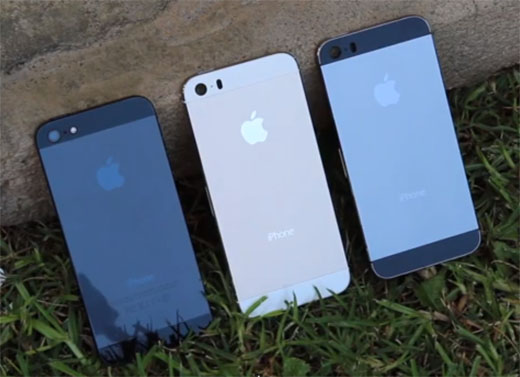 Somehow Apple has managed to tweak the exterior colors of the iPhone 5S while retaining the classy, refined look of the device. It's not clear whether or not Apple will launch the iPhone 5S in four different colors, or if gold and graphite will replace silver and slate entirely this fall. In any case, all of the leaked parts clearly show a pill-shaped slot for a brighter, more sophisticated dual-LED flash.
Check out the video below for a detailed look at the graphite iPhone 5S back. Skip to 2:05 for the relevant parts of the clip. This video also compares all four different aluminum colors produced between the iPhone 5 and the upcoming iPhone 5S.
Here the gold iPhone 5S is detailed and compared to the current silver iPhone 5. DetroitBORG also shows the leaked chassis compared to the upcoming lower-cost iPhone 5C.
The breakdown below clearly shows internal differences between the iPhone 5 and iPhone 5S, some of which are to accommodate a larger battery in the iPhone 5S.
Apple's iPhone event is all but confirmed for September 10. The company is expected to reveal both the iPhone 5S and the iPhone 5C. The iPhone 5S will feature speed and camera improvements, as well as a sapphire coated home button with a fingerprint sensor.