Submitted by Frank Macey on
There's no shortage of Apple rumors circulating this year ahead of WWDC. Next week the company is not expected to announce any new hardware, but a completely redesigned iOS 7 instead. The iPhone 5S won't see the light of day until this fall. In the meantime, this hasn't stopped Nowhereelse.fr from leaking more iPhone 5S parts photos.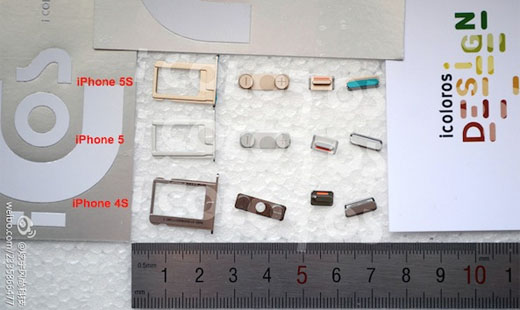 After all, the next generation iPhone is said to have already entered trial production. Although the device will have the same form factor as the current model, the iPhone 5S reportedly has internal improvements and will come in multiple different colors. Anyone who remembers how long the white iPhone 4 was delayed can be forgiven for being skeptical when it comes to these reports.
The gold iPhone 5S SIM card trays have been photographed before, and this time there are matching volume and mute buttons to boot. Nowhereelse.fr has a pretty decent track record when it comes to reputable leaks, so the sources that delivered these photos could be the real thing. The iPhone 5S is also rumored to feature a fingerprint scanner in the home button, which would eliminate the need to enter a separate passcode for access to the device. Not only would this be convenient, but Apple would finally fulfill some of the longstanding patent applications the company owns regarding biometric technology.
Whether or not Apple moves forward with design changes such as a thinner profile or smaller bezel on the iPhone 5S remains to be seen. Despite the rumors, the only new parts color that has leaked so far is gold. Could Apple really be considering an iPhone 5S in colors like the iPod touch?