Submitted by Frank Macey on
Apple has even more surprises in store for those anticipating the iPhone 5S announcement early next month. According to parts leaked by Sonny Dickson, the company will add a graphite and black color to the lineup this fall. This could mean the iPhone 5S will be available in graphite and gold flavors in addition to the familiar slate and silver combinations of the iPhone 5.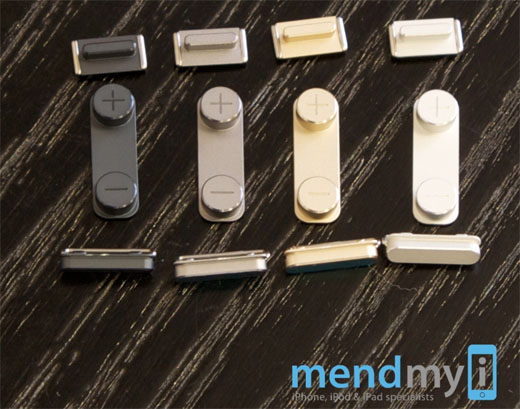 Alternatively, Mendmyi claims the iPhone 5S will only be available in the new colors gold and graphite, in a shift away from the colors used on the iPhone 5. Offering only the updated color schemes would set the iPhone 5S apart from the iPhone 5. For comparison, all four colors are shown in the above photo of metal parts including the volume, sleep and mute buttons.
While the graphite colored metal of the iPhone 5S would be paired with black glass and trim, it's not clear what color would complement the gold version. Currently the iPhone 5 pairs white glass and home button parts with silver aluminum, and slate metal with black trim. Reports indicate the iPhone 5S will be Apple's next flagship device, replacing the standard home button with a sapphire lens protecting an embedded fingerprint sensor. The part would render manual passcode entry obsolete.
Other upgrades to the iPhone 5S are rumored to include a faster processor, dual LED flash and slow motion video recording capabilities. Apple is widely expected to offer the iPhone 5 hardware repackaged into a plastic shell. Dubbed the iPhone 5C, this lower cost device will be available in multiple colors including white, pink and blue.
Look for Apple's iPhone 5S and 5C media event on September 10th for more information.