Submitted by Frank Macey on
Apple is known for retaining the external look and form factor of the iPhone in between major upgrades, tweaking things a little and adding an "S" to the number. Now that more parts have surfaced as Apple prepares its latest smartphone for production, it seems that the iPhone 5S could have more significant design changes in store.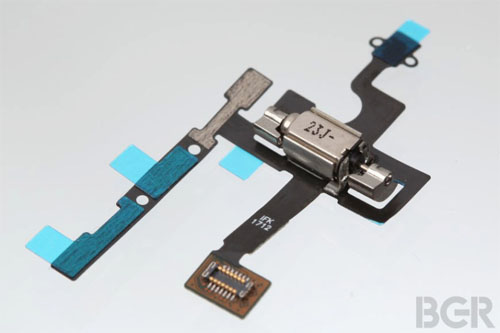 For the most part, these upgrades will be internal while the size and shape of the 5S will remain the same. More evidence has surfaced, however that Apple will release the iPhone 5S in different colors besides silver and black, as a gold SIM card tray matching those previously leaked is included in the latest batch of photos from BGR. So what does Apple have up its sleeve for the next generation iPhone?
Although the rumored fingerprint-scanning home button has yet to be confirmed, significant changes to several internal parts point to a major redesign to accomodate new components in the 5S. The photos show significant changes to the loud speaker bracket, ear speaker bracket, Wi-Fi cable ribbon and vibrating motor assembly. Not only this, but the SIM card tray is thinner and previous leaks have shown changes to screw locations in the iPhone 5S backplate.
Besides a complete overhaul of iOS to be released in version 7 along with the new iPhone, Apple has also been rumored to replace the physical home button with a sapphire crystal fingerprint scanner that would eliminate passwords once and for all. In addition, the iPhone 5S could include a brighter double-LED flash, a higher resolution 13-megapixel camera with new HDR features, and a significantly faster A7 processor.
It's not clear whether or not Apple will announce the iPhone 5S in June at WWDC, despite rumors that the device will be
available for pre-order on June 20
. Some analysts are expecting a fall release, just in time for the holiday shopping season and a full year after the launch of the iPhone 5.