Submitted by Thomas Estilow on
With all the buzz surrounding iPhone OS 3.0, it's easy to forget the incredible potential of next-generation mobile hardware coming our way this summer. When it comes to the insides of Apple's iPhone 3.0, there are plenty of upgrades in the works.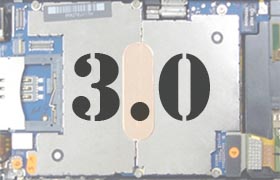 One only has to look at the deals Apple has already made with its partners in the hardware manufacturing business to picture the next device. In one of the most dramatic and exciting developments, LG has made a multibillion dollar deal with Apple to supply the company with OLED displays.
OLEDs (organic light emitting diodes) would be ideal for a device like the iPhone, since they don't require a backlight and would save significant amounts of battery power. Apple is already expected to use the displays in upcoming notebook computers and other displays.
How about the graphics we'll be looking at on this new display? Imagination Technologies designed the PowerVR graphics core used in the current iPhone, and they have already announced their next SGX design with multi-processor support. The chip performs extremely well for its level of power consumption and could substantially increase the gaming capabilities of the iPhone. Apple has acquired a license to use PowerVR video processing cores in upcoming SoC (system on a chip) designs.
When it comes to processing power, iPhone 3.0 firmware already supports quad-core processors. Some of the chips Apple has to choose from have been reported, such as the ARM Cortex-A9 MPCore multicore processor. Apple is a licensee of ARM architecture.
Another possibility is the Marvell PXA168 ARM chip. Rumors have surfaced that Apple has already purchased these chips and expects shipment sometime in July. These chips are also easy on power consumption but are designed to bring the capabilities of an entry-level laptop to mobile devices.
Further hardware upgrades in the pipeline will boost data connectivity speeds and coordinate with AT&T's ongoing 3G network upgrades. Infineon is expected to have a new 3G chipset by June that increases battery life and supports the increased bandwidth. These improvements should double download speeds to 7.2Mbps at a minimum, with speeds of up to 14.4Mbps possible. Wi-Fi could also see an upgrade from 802.11g/b to 802.11n.
Last but not least, an improved camera is expected to make the cut as well. Although some have speculated that this feature would only make it into the highest-end iPhone devices, higher resolution along with increased processing power would improve photos and could lead Apple to release a video recording application.
Hopefully Apple will announce further details on the upcoming iPhone 3.0 hardware at their Worldwide Developer Conference later this year.