Submitted by Sammy Snyder on
Unlike like the previous couple of years which were filled with dreams of tear-dropped iPhones, the start of 2013 has been pretty quiet for the normally busy Apple rumor mill. The end of 2012 put an end to some the biggest Apple rumors with the launch of the iPad 4, the iPad mini, and the long awaited iPhone 5. This is also why Wall Street is predicting a slow start to the new year for Apple, and why AAPL is down even after the company recently announced a record $54.5 billion in revenue.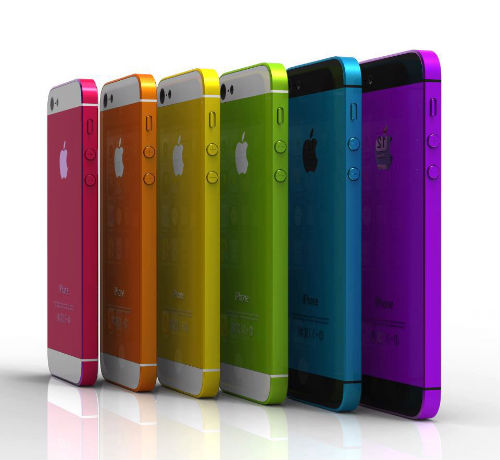 Apple CEO Tim Cook promised iOS fans some "amazing new products" in the company's quarterly earnings press release released yesterday. Here's what the rumor mill thinks they will be.
iPhone 5S:
Some analysts are promising a 2013 summer release for the iPhone 5S. Apple isn't expected to make any changes to the iPhone's form factor like it did with the iPhone 5, but purported photos of leaked iPhone 5S parts show minor changes to the aluminum chassis. It is also rumored that Apple will offer the iPhone in an iPod touch-like array of colors, and introduce a Home button fingerprint sensor system.
It's unclear if the iPhone 5S is Apple's rumored $99 to $149 "entry-level" iPhone, or the follow-up to the iPhone 5.
The "low-cost iPhone" is rumored to feature a 5-inch display and a new exterior design. It's also expected to feature components from older models and a plastic/metal chassis to help keep the cost down. The low-cost iPhone has also been dubbed the "iPhone mini" by some.
iPhone Math:
I hope the "iPhone Math rumor never dies. It's just too hilarious. Even if Apple had considered calling one of their phones "Math," they've probably changed their minds after all the backlash the name has received. The iPhone Math rumor was started by a poorly translated Chinese news report. The original rumor suggested Apple is planning to release three new handsets in 2013: The iPhone 5S with 4-inch display and 8MP camera, the iPhone Math with 4.8-inch display and 8MP camera, and an unnamed device with a 12MP camera.
iPad mini 2:
The new iPad mini is expected to feature a 7.9-inch Retina display and updated hardware, but that's about it. It's unknown whether or not Apple will continue selling the original iPad mini at a reduced price, or discontinue it altogether.
iPad 5:
iPad 5 rumors haven't been all that exciting either. There have been reports of a March 2013 release along with Apple's newest mobile operating system iOS 7. It has also been rumored that the new iPad will be significantly lighter and slimmer and feature Apple's new A7 processor. Lighter and slimmer makes sense since most devices seem to be headed in that direction. Unless you're Microsoft, who is preparing to release a 2 lb, $900 tablet on February 9th.