Submitted by Sammy Snyder on
Apple officially released its Q1 2013 earnings report, and put an end to speculation that demand for the iPhone and iPad is low.
Apple CEO Tim Cook addressed recent rumors that iPhone and iPad production has slowed due to a decrease in demand. Cook explained using order cut "data points" is not an accurate way to determine what is happening inside of Apple.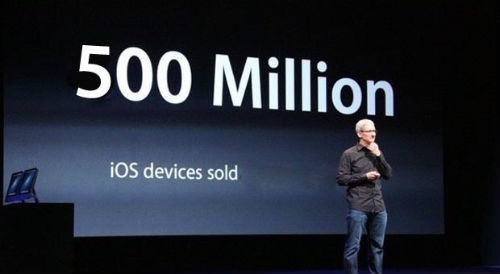 "It's good to question the accuracy about any rumor regarding build plans," Cook said. "I'd stress that even if a particular data point were to be factual, it would be impossible to interpret the effect on our business. Our supply chain is very complex... there's a long list of things that would make any single data point not a great proxy for what's going on."
Apple Reports First Quarter Results
According to the
press release
, Apple sold 47.8 million iPhones, 15.43 million iPads, 5.2 million Macs, and 15.4 million iPods in the quarter.
"We're thrilled with our outstanding results and record-breaking sales of iPhones, iPads and Macs," said Cook. "Apple's momentum is incredibly strong, and we have some amazing new products in the pipeline."
Even though Apple posted a record $54.5 billion in revenue, and set a company record for iPhone sales, it still fell short of Wall Street projections. AAPL is down some 5% in after-hours trading due to analysts' low predictions for the next quarter, and the recent rumors of weakening demand for iOS devices.
Here's Apple's full press release:
Apple today announced financial results for its 13-week fiscal 2013 first quarter ended December 29, 2012. The Company posted record quarterly revenue of $54.5 billion and record quarterly net profit of $13.1 billion, or $13.81 per diluted share. These results compare to revenue of $46.3 billion and net profit of $13.1 billion, or $13.87 per diluted share, in the 14-week year-ago quarter. Gross margin was 38.6 percent compared to 44.7 percent in the year-ago quarter. International sales accounted for 61 percent of the quarter's revenue.

Average weekly revenue was $4.2 billion in the quarter compared to $3.3 billion in the year-ago quarter.

The Company sold a record 47.8 million iPhones in the quarter, compared to 37 million in the year-ago quarter. Apple also sold a record 22.9 million iPads during the quarter, compared to 15.4 million in the year-ago quarter. The Company sold 4.1 million Macs, compared to 5.2 million in the year-ago quarter. Apple sold 12.7 million iPods in the quarter, compared to 15.4 million in the year-ago quarter.

Apple's Board of Directors has declared a cash dividend of $2.65 per share of the Company's common stock. The dividend is payable on February 14, 2013, to shareholders of record as of the close of business on February 11, 2013.

"We're pleased to have generated over $23 billion in cash flow from operations during the quarter," said Peter Oppenheimer, Apple's CFO. "We established new all-time quarterly records for iPhone and iPad sales, significantly broadened our ecosystem, and generated Apple's highest quarterly revenue ever."

Apple is providing the following guidance for its fiscal 2013 second quarter:

• revenue between $41 billion and $43 billion
• gross margin between 37.5 percent and 38.5 percent
• operating expenses between $3.8 billion and $3.9 billion
• other income/(expense) of $350 million
• tax rate of 26%
Apple also announced iCloud platform users tripled from 85 million to 250 million in 2013. [via Engadget]