Submitted by Marshall Walker on
Adult Swim has released version 1.1 of its popular game Castle Doombad. The update adds 15 new "slaycation" levels, new traps and minions. The new traps include the Iron Maiden and a new manual trap called the Giant Boulder of Death. The new minion is a "spark" minion who zips along the castle walls and zaps heroes. The slaycation levels also up the ante by adding a second Beach Princess for players to protect, and introduce the new Hasselhoff Lifeguard and Galaxy Soldier heroes.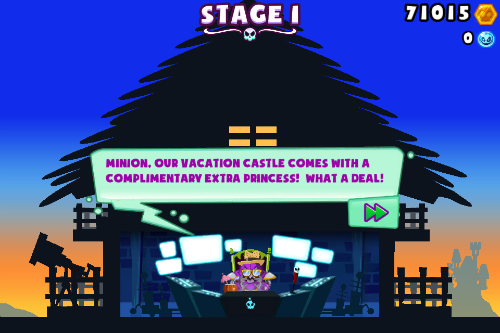 Castle Doombad is one of the best games released for mobile devices this year. Players must help Dr. Lord Evilstein fend off various heroes who are trying to invade his castle and steal back the princess he has kidnapped. Players can use a variety of automated traps, manual traps and little creatures to defend Evilstein's castle.
Castle Doombad version 1.1 is available now as an OTA update for previous owners. The game has also been discounted to $0.99 for new users until April 6th. You can download Doombad from the Apple App Store. It requites iOS 4.0 or later. Here's the complete changelog for v. 1.1:
- All new "Slaycation" chapter with 15 new stages (bringing the total to 60), accessible to the left of Chapter 1 after you've 'crowned' 12 stages
- The new chapter adds the "two princesses" feature (with the new Beach Princess). Players earn screams twice as quickly, but must defend both princesses simultaneously
- Three all new traps: Iron Maiden, the Spark Minion, and the Giant Boulder of Death
- Two new heroes: the Lifeguard and the Galaxy Soldier
- New "randomize trap shelf button" – shake up your arsenal of weapons and adapt your strategy on the fly with randomized traps. Receive a bonus from completing stages with all randomized traps
- Six new achievements