Submitted by Marshall Walker on
Castle Doombad takes place in Dr. Lord Evilstein's castle after he has kidnapped a princess. Players must act as Evilstein's "minion" and defend his evil lair from the various heroes trying to break in and save her. The game is a fast-paced tower defense title where players must drag and drop various traps, and deploy evil creatures to destroy knights, ninjas and other enemies of Evilstein.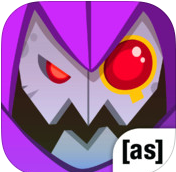 There are 3 chapters in the game and each chapter features 12 levels and 3 master stages. The goal of each level is to stop the multiple waves of heroes from leaving the castle with your princess. You do this by capturing screams from a Scream Generator to buy various cartoon traps and obstacles, like an "Overactive A/C," to defend your evil lair. You also have three special powers and various minions you can use to fight off your enemies. There are 14 Auto Traps, 5 Manual Traps and 4 Minions to unlock and choose from. Money can also be earned to upgrade each trap and minion as you advance in the game.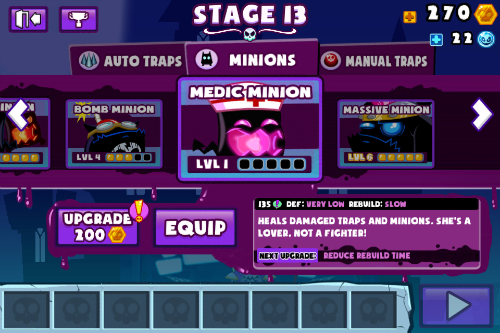 When I first discovered Castle Doombad in the App Store I thought it was going to be a lot like Pirate Defense, but I was wrong. While the game does require the use of traps to defend your castle, they are more like towers in any standard defense game, instead of like the interactive traps in PD. For example, you can place the Treadmill of Doom at the bottom of a ladder to have the Acid Dripper drip on your advancing enemies, but that's about it. There isn't really much too combining and stacking traps for the "maximum effect" like the game's description promises.
Castle Doombad
requires very little strategy and is very easy to complete. However, it does have a lot of replay value thanks to its many achievements and bonus "Endless Knights" mode. Hopefully adult swim plans to add more chapters and levels in the future, because this is a really fun game that would benefit from being a little bit more challenging.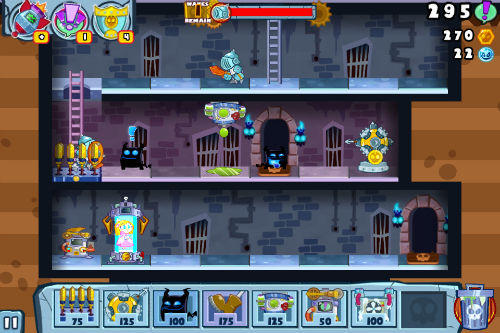 Castle Doombad delivers everything you can ask for in an iOS tower defense game: it looks amazing, its controls are simple, and it features plenty of upgrades and achievements. It also offers non-stop action, unlike some TD games where you just sit around waiting to see what happens.
Castle Doombad is available for $2.99 in the Apple App Store. It is compatible with the iPod touch and iPhone, and it requires iOS 4.0 or later.