Submitted by Marshall Walker on
One of the best iOS games of the year is getting released again as a free edition. Adult Swim's Castle Doombad: Free to Slay will be available on the App Store tonight, according to Touch Arcade. The new version will feature all the same trap setting antics as the original, with only a few minor tweaks. The free version of the app will be ad supported and it will feature a few optional in-app purchases such as Doom Shekel packs. Users will also have the option to watch videos to earn additional in-game currency.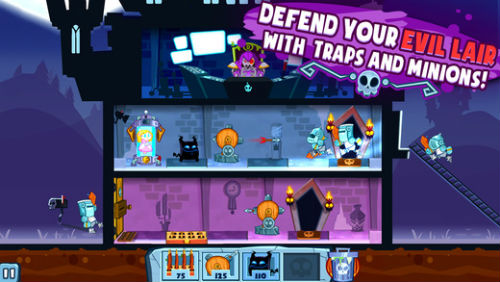 In Castle Doombad, players assume the role of Dr. Lord Evilstein, who has recently kidnapped a princess. Players must use various traps and call on their minions to stop the knights, bounty hunters and other heroes from saving her. The game is described as a "reverse spin on tower defense". The game features three different chapters (four if the new Slaycation levels are included), over 45 levels, great cartoon graphics, fun characters and an endless mode.
Castle Doombad is highly recommended, especially for free! The current ad-free version with no in-app purchases is available on the App Store for only $2.99. It supports all devices running iOS 4.0, including the iPhone 3GS and third-generation iPod touch!
You can read our review of the game here.