Submitted by Anders Batten on
ACR Drift is a new free-to-play racing game from developer Crooz Inc.. Players can earn money to buy and customize over 50 world famous cars such as the Bugatti Veyron , Pagani Zonda Cinque, Bentley Continental GT and more. The game also features a wide selection of courses around the world, detailed graphics and reflection mapping technology that displays the cityscape and landscape on each car body.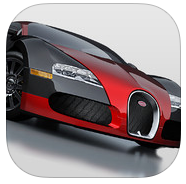 The controls in ACR Drift are very, very simple. You just swipe left or right to drift or change lanes, and swipe up to use a nitro boost. The only real difficult part is timing your swipes to drift at the correct moment. The most annoying part of the game is that the load times between races can actually be longer than the races themselves. I only gave the game a quick spin so it is unclear if it eventually requires in-app purchases to continue play like other freemium titles.
ACR Drift is available for free on the App Store. It is compatible with all devices running iOS 5.1.1. or later.