Submitted by Marshall Walker on
Dead Defense is now available for all current iOS devices. It is a typical Tower Defense game where you must use a variety of towers and special abilities to defeat waves of various monsters and bosses. The controls are very simple, but the game play can be kind of difficult. The game does not allot you enough time between waves to set up your towers, and too many different types of monsters come at you from a variety of different directions. It also takes a few seconds for each tower to be built or upgraded, making it hard to adjust on the fly and learn the layout of each level. The restart button will be your best friend in this game.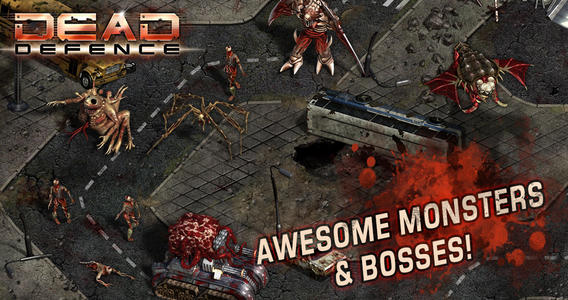 Make sure to pay close attention to the tutorial and learn about each individual tower's abilities before you start the game. There is no encyclopedia or in-game information to help you along the way. Tapping a tower's icon during the game does not bring up its individual stats, and tapping a power up icon will only bring you to an in-app purchase screen if you do not have enough crystals to use it. Not having enough time to plan your defense, and not having easy access to a individual tower's information can make Dead Defense seriously frustrating.
UPDATE: You can see the specs for all the towers under the "Research" section.
Dead Defense isn't really for the Plants vs. Zombies crowd, but serious TD fans will probably enjoy trying to conquer it. The game features plenty of interesting monsters and surprises to keep it interesting. For example, the creeps don't always follow the same path which will force you to change your strategy many times. The game also features flying and regenerating monsters that will make you want to pull your hair out.
Like most TD games you start with one tower and can unlock additional towers as you advance. There are also four special abilities that require crystals for you to use. Crystals are hard to come by so make sure you use them wisely.
Achievement junkies will also be happy to know there are over 50 individual tasks to complete.
Dead Defense is currently available for free from the App Store. It supports the iPhone 4, iPhone 4S, iPhone 5, iPod touch (3rd generation), iPod touch (4th generation), iPod touch (5th generation), iPad and iPad mini.