Submitted by Marshall Walker on
The $0.99 Tower Defense game Goal Defense is available for free for a limited time in celebration of the upcoming Olympic Games in London. Goal Defense is a simple hex-based Tower Defense game for the iPhone and iPad. It features 40 challenging levels, fun animations and plenty of upgrades and bonuses.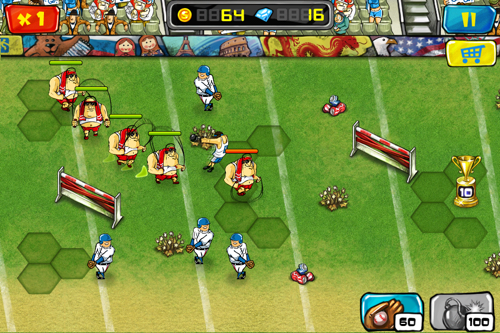 In Goal Defense you must train a team of random athletes to defend the Golden Bowl trophy from waves of muscle-bound jocks. The game follows most of the basic Tower Defense staples, but its fun cartoonish play separates it from other boring TD rehashes. The game is simple to play, just drag your players onto the field to stop the oncoming waves of enimies from getting to the trophy. You can upgrade and sell your players by tapping them, and use click and drag bonus weapons to save your butt when a jock slips by your defense. The controls may be simple, but the game does get increasingly difficult and trickier as you advance. For example, on level six small vans begin dropping off players closer to the target making it more difficult to build a solid defense.
Like most iOS games Goal Defense features in-app purchases, Leaderboards, and a Shop for unlocking new players early. You can earn or buy diamonds to purchase the Shop upgrades, or use them during the game to access the bonus weapons.
My only complaint is that the game does a poor job of explaining how your towers and their upgrades work. This makes the game a little more difficult for beginners to get the hang of. I can only suggest using a little trial and error to learn about each tower's individual strength and range. Also be sure to pay attention to the arrows at the beginning of every new wave. These show you the path that the jocks will take to the trophy. The arrows are a great tool for building the perfect defense.