Submitted by Sammy Snyder on
The official Iron Man 3 game for iOS devices is now available for the iPhone and iPad. Unfortunately the game is an endless runner, but it does feature some pretty amazing graphics (check out the trailer below) and notable Iron Man villains like Crimson Dynamo, Living Laser, and M.O.D.O.K.. You can also research and develop up to 18 Iron Man suits, and upgrade your armors and powers in the Stark Industries research lab... Plus it's free!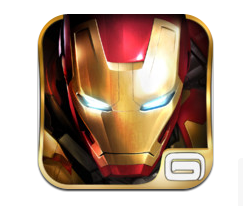 The game has been released about two-weeks before Iron Man 3 the movie hits theaters on May 3, 2013. The film follows Tony Stark and James Rhodes as they battle a terrorist called the Mandarin. Iron Man 3 is directed by Shane Black (Kiss Kiss Bang Bang), and stars Robert Downey Jr., Ben Kingsley and Don Cheadle.
Iron Man 3: The Official Game is compatible with the iPhone, iPod touch and iPad. It requires iOS 5.0 or later, and is optimized for iPhone 5. You can download it now for free via the Apple App Store.