Submitted by Marshall Walker on
Fantasy Defense HD is a classic Tower Defense game with RPG like elements and an anime art style. You must use a combination of loyal fighters and skilled mages to defend your kingdom from various waves of enemies. What separates this game from most Tower Defense games is the ability to buy items and upgrade your towers between levels. There are also various items like gems and treasure chests that you can bust open for bonuses during gameplay.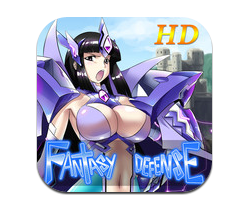 I gave the game a quick whirl and the first few levels are terribly easy, however, there is a lot to learn. Perhaps the game is structured that way to give you time to figure out how to use the many abilities and upgrades before it gets harder. Fantasy Defense HD has 5 different environments with 10 levels each, adding up to 50 different boards to play. There are also different game modes like "Infinity Mode" adding even more playability. The Record Board keeps track of your high scores, but doesn't offer any achievements.
Fantasy Defense HD is currently free in the iTunes App Store. It's rated 12+ for infrequent/mild sexual content and infrequent/mild cartoon or fantasy violence. It compatible with the iPhone, iPod touch, and iPad, and it requires iOS 4.2 or later.