Submitted by Frank Macey on
No matter what colors the iPhone 5S may carry on its exterior, upgraded hardware will ultimately set the device apart from the crowd. More information has surfaced revolving around the next generation Apple A7 chip to be featured inside the upcoming iPhone 5S. MacRumors previously identified a prototype of the handset with a new chip in Apple's series labeled APL0698.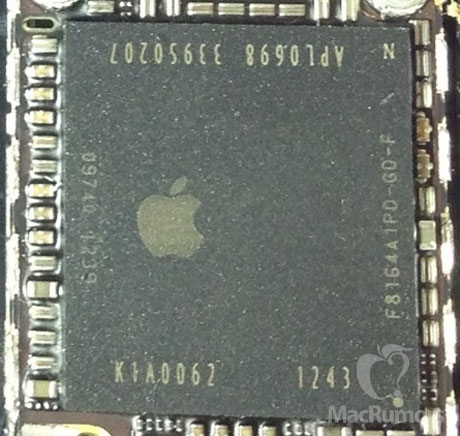 Now 9to5Mac reports the A7 chip runs 31 percent faster than the current A6. Not only this, but the same source claims the A7 system will sport an independent chip designated specifically for motion tracking. This could mean Apple is working on new camera software for the iPhone 5S, or implementing new ways to interact with iOS without having to touch the display.
Prototypes of the iPhone 5S are said to be running a 64-bit version of the A7 processor, however Apple is not expected to launch 64-bit mobile technology until it releases the A8 chip in 2014. Moving to a 64-bit processor would make iOS transparencies and animations even more silky smooth. In the meantime, the iPhone 5S will enjoy several hardware upgrades while the iPhone 5 internals are repackaged into a less expensive plastic model dubbed the iPhone 5C.
In addition to the Apple A7 chip, the iPhone 5S is expected to launch with a dual-LED flash and an expanded storage option topping out at 128GB. A sapphire home button will scan fingerprints, making manual passcode entry unnecessary. The iPhone 5S could even launch in four different colors, including never before seen aluminum backs in gold and graphite.
Apple's fall 2013 iPhone event could take place as early as September 10th in San Francisco.