Submitted by Frank Macey on
Another day, another leak showing off parts from the upcoming iPhone 5S. This time Nowhereelse.fr showcases the top glass piece from the back of the device. Pictured in black, this piece clearly shows a larger, pill-shaped hole for the LED flash, right next to the camera lens hole. The revised shape seems to confirm that Apple will include a brighter, dual-LED flash in the next iPhone.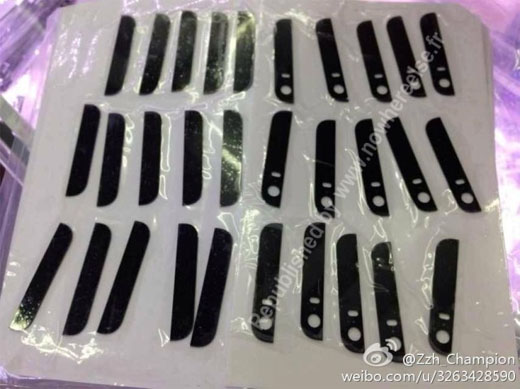 Two LEDs means more light, bringing better illumination to photos that need a flash. MacRumors reported on the iPhone 5S camera module, which does not include an attached flash module. Instead, the LEDs will be a separate component from the camera sensor and lens unit. The current iPhone 5 relies on a single LED flash when taking photos in low light.
There are conflicting reports as to whether or not Apple will improve the camera resolution on the iPhone 5S. While some sources have indicated the camera will be upgraded to 12 megapixels, others claim the new camera module will only feature a wider aperture to further improve low-light photography. The iPhone 5 currently sports an 8 megapixel camera.
Either way, it appears that a dual-LED flash is in the works for the next generation iPhone. While Apple is expected to launch the iPhone 5C with a plastic shell, the successor to the iPhone 5 will have the same metal back with top and bottom glass antenna portals currently found on the flagship smartphone.