Submitted by Frank Macey on
National Geographic has updated their first-rate World Atlas iOS app to version 3.0.1 and is celebrating the occasion by offering the software for free. iPad, iPhone and iPod touch users can grab a copy sans charge for a limited time. The download tops 203 MB so a Wi-Fi connection is required.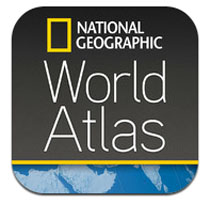 The World Atlas application features Retina display compatibility, a redesigned user interface and added features, along with National Geographic's impeccable research and cartography. All maps have been updated for 2013 and can be viewed in antique, classic, road map or satellite modes. Built-in measurement tools can be used to compute distances accurately.
The list of features goes on:
- Store your pins in the cloud and share them across devices. Plan a trip on your iPad, then use your customized map on your iPhone.
- Add and customize collections of map pins.
- Get up-to-the-minute weather.
- Check the latest currency conversion rates, or use the currency calculator to convert from one currency to another.
- See latitude and longitude indications directly, with a tap of your finger.
- Spin, pan and zoom in on the world with an interactive 3D globe and seamless world map layers.
- Get up-to-date information on every country and capital city in the world, including socio-economic data, demographics, weather and currency.
- Download maps to use them offline when a data connection isn't available.
The World Atlas is supported on all iOS devices running iOS 5.0 or later. Download the
National Geographic World Atlas from iTunes
for free while you can!