Submitted by Frank Macey on
iPhone 5s fitness fans can mark their calendars for November 6. On this date, Nike will release two free apps in the App Store, an updated Nike+ FuelBand App and the Nike+ Move App. The Nike+ FuelBand SE with M7 chip compatibility also arrives on this date. The FuelBand connects to the iPhone 5s via low-energy Bluetooth 4.0.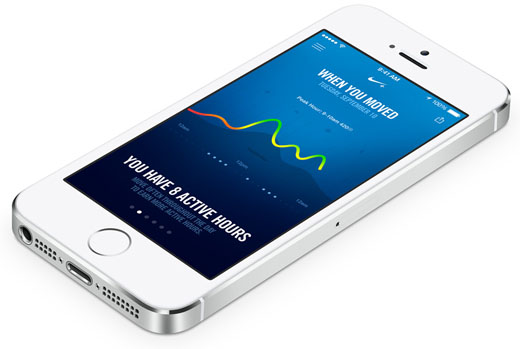 While the Nike+ FuelBand App is used to get the most out of the FuelBand accessory, the Nike+ Move App provides iPhone 5s users with an introduction to the NikeFuel ecosystem. As showcased in the Apple iPhone keynote, using the M7 motion coprocessor means that the iPhone 5s can efficiently track physical activity without draining the battery.
Nike+ Move takes advantage of the M7 to measure motion data from the on-board sensors and log activity levels. By tracking when, where and how you moved, the app uses NikeFuel earnings to motivate further activity. The app has a social component for motivation as well, making it possible to compete against friends or compare activities to local Nike+ Move users.
Apple touted the M7 as a new way for iPhone 5s apps to know when you're walking, running or driving. For example, the stock maps application will automatically switch from driving to walking turn-by-turn navigation as circumstances warrant. The M7 not only reduces power consumption by not engaging the main A7 processor, but it can reduce network pinging when the iPhone 5s isn't moving to save even more battery power.
The Nike+ FuelBand SE is now
available for pre-order for $149
.