Submitted by Frank Macey on
This March, Mophie will ship its latest Juice Pack, the Helium for iPhone 5. With a 1500mAh battery built-in, the Helium almost doubles the battery capacity of your device. Not only this, but to match the slim profile of the iPhone 5 the Helium is the slimmest Juice Pack from Mophie yet. It measures 0.59 inches and weighs only 2.44 ounces.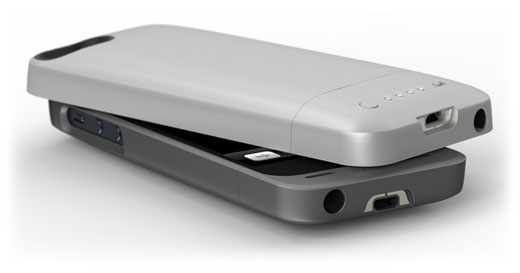 Besides acting as a case to protect your iPhone 5, the extra battery capacity means up to 6-7 hours of extra calling or browsing time. The Helium includes an LED battery level indicator, standby switch, and charges itself and your iPhone 5 with a micro-USB cable.
One interesting feature of the Mophie Juice Pack Helium is the specially designed forward-ported acoustics. This redirects sound from the iPhone 5 speakers towards you, optimizing playback. Access to the audio jack and Lightning connector is possible without removing the Helium. Mophie has taken the iPhone battery case to a new level, and will offer the product in two colors, dark metallic and silver metallic.
The Juice Pack Helium is priced at $79.95 and can be pre-ordered now. Get more information directly from the Mophie Juice Pack Helium product page.