Submitted by Frank Macey on
Google has launched the first update to its stand-alone Google Maps app for iOS. Version 1.1 brings several improvements for iPhone and iPod touch users. Local search gets new icons to organize nearby results by category, such as post offices, bars, gas stations and the like.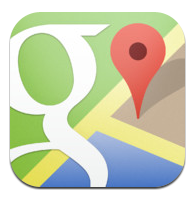 This can speed up the search process if you're in a hurry, making the local search feature even more powerful and convenient. The other major upgrade is Google Contacts integration. If you're a Google account user, this means your contacts will be included in Google Maps search results.
You must be signed in for Google Maps to have access to your contacts. Typing a contact's name will automatically display their address if you already have this information stored in your Google account. This can speed up the process of getting a map or directions to a friend's address.
The complete list of changes to Google Maps from iTunes:
- Search your Google Contacts; sign in to have your saved addresses show up when you search for friends and family by name.
- Quickly search for local places by selecting popular categories such as restaurants, bars, cafes, gas stations, etc.
- Choose between Kilometers or Miles for your preferred distance units.
Of course, some features may not be available in all countries. The English version of Google Maps 1.1 has also been rolled out in Bahrain, Egypt, Lebanon, Oman, Qatar, Saudi Arabia, and UAE.
Keep up the good work, Google!