Submitted by Frank Macey on
Google Chrome joins Google Maps in getting an update on the iOS App Store this week. The latest Chrome browser adds a feature already familiar to Safari users. Holding the back browsing button will bring up a menu of recently visited web pages.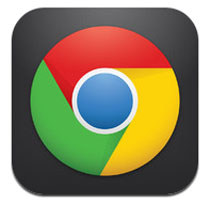 The back button function is a shortcut to accessing the history right from the main browsing window that can save time. With this update to Chrome 25 for iPhone and iPad, Google has also made it possible to share a web page using Messages.
Jailbreak users watch out. There are reports of a bug that could cause Chrome 25 running on jailbroken iOS devices to crash upon launch.
The official what's new list for Chrome Version 25.0.1364.86 from iTunes:
- Long press on the back button to quickly access any page in your tab history
- Share a web page via Messages
- Stability / security improvements and bug fixes
Google also announced it would be improving search over the coming days. Planned changes include the search term appearing in the omnibox instead of the search query location, and a way to easily refine search queries or view more results will be added to the results page.