Submitted by Sammy Snyder on
CocoaNuts has released YourTube for iOS6 to Cydia. The update brings iOS 6 support to the popular YouTube extension. YourTube users can download any YouTube video and import them directly into their iTunes Library. This allows you to watch videos offline, hide ads and view region-locked media.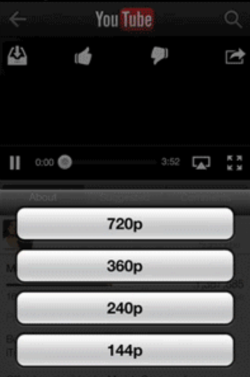 The jailbreak tweak offers fast download speeds, the ability to switch video quality, and the the ability to import videos and music into the Video or Music apps. The tweak is being offered for $1 off its normal $4.99 price for the next three days, and is free for existing YourTube and YourTube HD owners.
YourTube 6 supports all jailbroken Apple devices running iOS 6 to iOS 6.1.2. You can download it from the BigBoss Repo in Cydia. Here is a complete list of YourTube for iOS6 features:
- Download YouTube videos for offline viewing
- Fast download speeds
- Select download and viewing quality
- Hide annoying advertisements
- Always enable AirPlay
- Import videos and music into apps
- No video restrictions
- An interface built into the YouTube application