Submitted by Sammy Snyder on
I've recently noticed that my iPhone is starting to look like a Google billboard, and I'm starting to wonder if other iPhone owners are feeling the same way.
YouTube beat out Instagram as the most downloaded free app of the year, and Google Maps shot to the top of the charts after being downloaded over 10 million times in less than two days. Granted, YouTube and Google Maps were already popular apps people were used to using, and iPhone owners just wanted them back after Apple removed them with iOS 6. But if you're like me, and have traded in Siri for Google Search, and Safari for Google Chrome, you might feel like you're betraying Apple a little.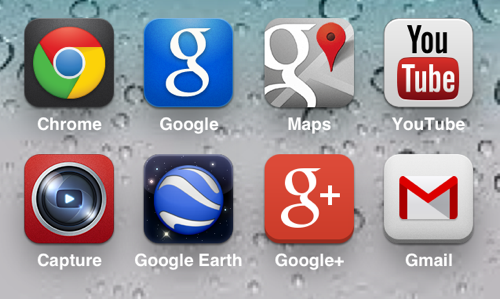 Then there are Gmail users and the social networking addicts who use Google+ along with Facebook and Twitter, and now Google is taking over our iPhone cameras with YouTube Capture. At this rate iPhone users are going to find themselves with more Google apps on their devices than stock Apple apps, or any other third party apps.
Of course integrating Google apps into your daily iPhone routine is a lot easier with a jailbroken device. Unlike non-jailbreakers, who can't make Google Maps their default maps app, jailbreakers can use a variety of tweaks to help make using Google products quicker and easier. The tweak NowNow allows iPhone owners to use Activator functions to easily access Google Search, and MapsOpener will transform Google Maps into your default maps application. iOS users who refuse to jailbreak will just have to wait until Eddy Cue and his team fix Apple Maps, or just get used to not asking Siri or using browser links for directions.