Submitted by Frank Macey on
Fans of stand up comedy have a new resource from Comedy Central, featuring over 700 comedians and 6,000 videos. Incredibly, all of this content is completely free in the universal iOS app CC: Stand Up. Clips of favorites such as Louis CK, Gabriel Iglesias, Daniel Tosh, Amy Schumer, Aziz Ansari and many, many more can be watched instantly with a single tap.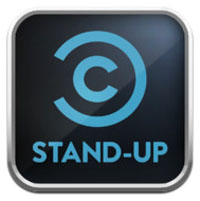 Both amateur and star comedians' acts are available uncensored, which earned the Comedy Central app a 17+ rating on the App Store. Besides watching a constant stream of hours of material, featured acts are highlighted and discover mode makes it possible to find new comedians related to stand up you already enjoy. Of course, searching for your favorites is also possible for instant gratification.
Although the collection of videos consists of clips that are under six minutes long, initial customer reviews of the app are overwhelmingly positive. From the official app description:
- The CHANNEL is the ultimate place to sit back and laugh, get hours of the best stand-up without interruption.
- FEATURED mode brings you curated stand-up playlists based on a particular topic, recent Comedy Central special, or simply the very "best-of" from a comedy giant.
- While viewing a clip in the app, click on the DISCOVER mode to find related comedians and videos connected by genre, topic, shared credits or random trivia.
- SEARCH our stockpile of over 700 comedians and 6,000 videos -- just type in a comic's name or the title of a specific clip.
CC: Stand Up requires iOS 6.0 and is available on the App Store for free.