Submitted by Frank Macey on
Getting the perfect action photo can be tough, especially using the iPhone camera. Normally with burst mode on a DSLR camera, a scene can be captured many times per second by simply holding down the shutter release. Now this continuous shooting capability has arrived on iOS with SnappyCam Pro.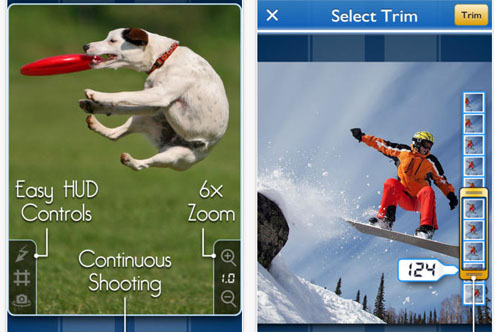 To snap a series of photos at up to 60 frames per second, simply hold down the shutter release button in SnappyCam Pro. The volume up or down buttons can also be used, with the app storing every photo in its own roll. The best photos can be selected and exported to the iOS Camera Roll or Instagram, shared via email or copied to a computer using iTunes app file sharing.
Multiple aspect ratios can be selected as well as different field of view (FOV) settings. A wider field of view will capture more area in a photo, but will slow down the continuous shooting speed. Full eight megapixel photos on the iPhone 5 can be shot in burst mode at up to 20 frames per second (FPS), and the app will clock 12 FPS at eight megapixels on the iPhone 4S. This is faster than many expensive DSLR cameras!
SnappyCam Pro also offers 6X lossless digital zoom, and a built-in time lapse setting that will slow image capture to once per hour. The secret to burst mode on the iPhone is the developer's exclusive digital signal processing (DSP) engine, which took a year of research to develop. Each image in the series is even stored with full Exif metadata and GPS location data when enabled.
Version 3.0 of
SnappyCam Pro has arrived on the App Store
for a limited time sale price of $0.99. The app requires iOS 4.2 or later and is compatible with hardware going back to the iPhone 3GS.