Submitted by Bob Bhatnagar on
iOS 7 users can grab the recently released 7.0.2 update using iTunes or over-the-air (OTA). The firmware update from Apple includes a security fix that plugs holes which allow someone to bypass the lock screen passcode. The vulnerability was first disclosed by Jose Rodriguez on YouTube. Although it may be difficult to reproduce, the bug made it possible to bypass the passcode with a sequence of inputs.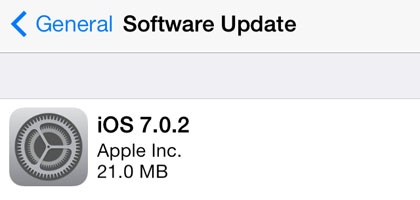 The steps involve accessing the Control Center from the lock screen, then opening the alarm clock application. After this, holding down the sleep/wake button until the iPhone displays slide to power off leads to the next step. Touching the Cancel button and quickly double pressing the home button launches the app switcher without a passcode. Obviously, this provides access to any running or recently opened apps with no passcode entry required.
Not only does iOS 7.0.2 take care of this loophole, but the firmware update reintroduces a Greek keyboard option for passcode entry. Good news for those looking to enter their passcode using the Greek alphabet. At least now, the new passcode cannot be bypassed with the steps above.
In related news, jailbreak developer MuscleNerd lets everyone who is looking forward to jailbreaking iOS 7 that installing the 7.0.2 update will not affect the process. Any future jailbreak of iOS 7 will still be possible with 7.0.2 installed.
Unusual level of detail in 7.0.2 security update notice http://t.co/ZWDFtzdT5J (for PR reasons?). It's not a JB vector so updating is fine.

— MuscleNerd (@MuscleNerd) September 26, 2013
For more details on the iOS 7.0.2 update (build 11A501) see Apple's iOS 7.0.2 support page. The update can be installed OTA by navigating to Settings -> General -> Software Update. Although the update is only 21 MB, iOS users looking to update must have at least 845 MB of storage available to update the iOS firmware to 7.0.2.
Reports indicate Apple is currently testing iOS 7.1 for release in the near future. Some animation tweaks and other bug fixes are expected in the next update. Stay tuned for more information.