Wireless telecommunications trade group CTIA - The Wireless Association has launched KnowMyApp.org, a website dedicated to measuring the data usage of mobile apps for both the iOS and Android operating systems. Their objective is to inform consumers and developers about various apps' data usage and efficiency before they are purchased and downloaded.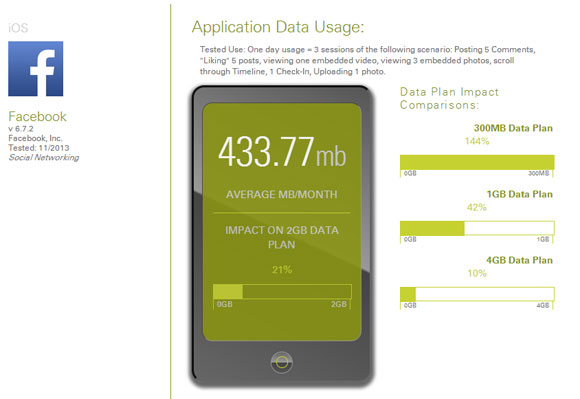 CTIA has partnered with Intertek Testing Services North America to provide this information, and currently offers data usage estimates on about 50 of the top paid and free apps in both the Apple and Google stores. Estimates are derived from information gathered by AT&T's Application Resource Optimizer (ARO) diagnostic
tool (freely available by download), which captures and analyzes application data usage. More apps will be tested and added to their database on a monthly basis.
Visitors to the website can browse apps by name, category or operating system, and then find out how the app was tested and how much data it used. For example, the test scenario for Facebook v 6.7.2 included three sessions of posting five comments, "liking" five posts, viewing one embedded video, viewing three embedded photos, scrolling through the timeline, one Check-In and uploading one photo. This scenario, meant to represent one day of data usage for a typical user, resulted in an estimate of 433.77 MB per month. The site uses bar charts to illustrate the app's impact on various data plans. In Facebook's case, 433.77 MB is about 21% of a 2 GB data plan.
Though the available information is somewhat limited at this point, KnowMyApp has plans to break down the usage further, including usage during download, initialization, active run time and background time.