When Apple's iOS 7 introduced the Control Center it became an obvious target for customization once the jailbreak tweaking got underway. One of the first new jailbreak tweaks to allow you to customize the Control Center was FlipControlCenter, which allowed you to control which switches would be available on your lock screen and what order they would be in. CCControls takes the Control Center customization to the next level, giving you many more options, including the ability to change the appearance of the toggles.
You can find the CCControls tweak in the ModMyI repository where you'll be able to install it for free. Once installed, head to Settings->CCControls. You'll be able to make your customizations here. From the main screen you can go to the "Themes", "Lock Screen Restrictions" or "Controls per Page" menus. From this screen you can
also customize which toggles will appear in your Control Center and what order they will be in. Simply drag the toggles to the position desired. If you don't want the toggle to display in your Control Center, drag it down to the "disabled" section at the bottom. There are currently 24 toggles (with the ability to add more) to choose from, including Do Not Disturb, Wi-Fi, Ringer, Flashlight, VPN, Airplane Mode and HotSpot, among others.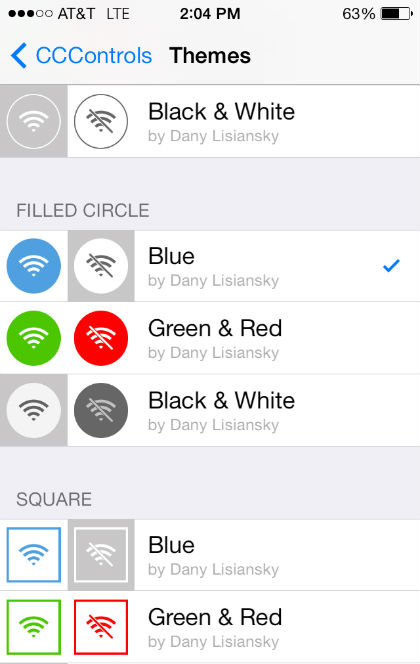 Under "Themes" you can choose the shape and color of your toggles. You can choose between filled or empty circles or squares, and you can choose between blue, green and red or black and white. There is also a theme called "Bottomline" which just underlines the toggle with a line of whatever color you've chosen. According to author danyl, more themes can be added. In the "Lock Screen Restrictions" menu option you can decide which toggles will be toggle-able from the lock screen. The "Controls per Page" menu sounds like what it is, allowing you to choose between one and six controls per row. "Rows per Page" is not yet available, but coming soon.
CCControls is free and compatible with iOS 7 on all iPads, iPhones and iPod Touches, including ARM64 devices.