Submitted by Bob Bhatnagar on
Jailbreak tweaks for iOS 7 and A7 devices are about to hit full swing now that evasion 7 is available and mobile substrate has been updated. The iOS 7 Control Center is one feature that easily benefits from customization. Developer Ryan Petrich has released a beta tweak called FlipControlCenter that allows users to add several toggles to the Control Center.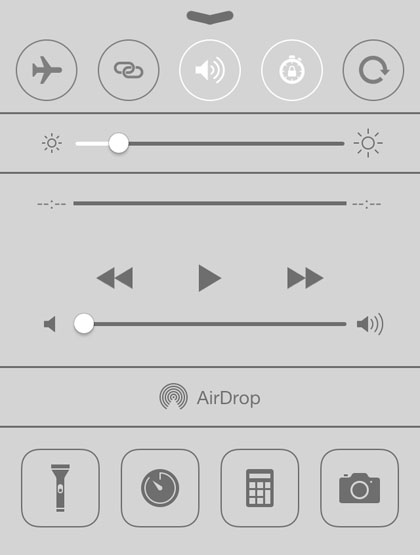 Jailbreakers will recognize this quick access to Settings toggles as a feature previously found in the tweak SBSettings. Even though FlipControlCenter is still in beta development, it integrates perfectly into the look and feel of iOS 7. Several pages of toggles can be accessed directly from Control Center, and certain toggles can even be made inactive from the lock screen for security.
Once your iOS 7 device is jailbroken with evasion 7 the tweak can be installed.
First, add the Cydia repository http://rpetri.ch/repo under Sources. Click here for instructions on how to add a repository to Cydia.
Once the repo is added, find FlipControlCenter using the Search function or by browsing the Tweaks section. Install the package and Respring.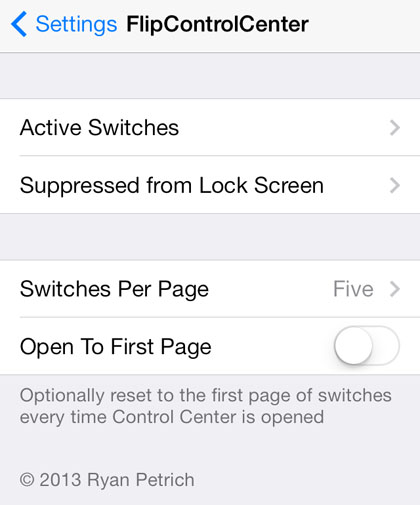 After FlipControlCenter is installed, it can be customized by navigating to Settings -> FlipControlCenter. Besides some basic options, the menu items include Active Switches and Suppressed from Lock Screen. First set up the active toggles you wish to see in the Control Center by tapping Active Switches.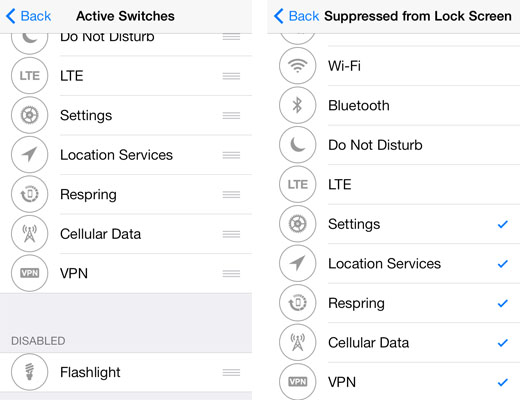 Switches can be dragged and dropped to change the order in which they appear in Control Center. They can also be dragged to the disabled section to ensure they don't appear at all.
Once the switches are configured to your liking, certain switches can be deactivated on the lock screen in the Suppressed from Lock Screen section. Select the toggles to suppress and a check mark will appear. Blocking access to some switches, such as the Settings switch, from the lock screen will help to keep your iOS 7 device secure.
FlipControlSettings adds useful and stylish functionality to the default Control Center. The beta version from Ryan Petrich can be downloaded free of charge.