Submitted by Bob Bhatnagar on
Mac users can now join in on iOS 7.1.x jailbreak fun. Pangu 1.1 has been released, adding a Mac OS X version along with several improvements. The update removes references to PPSync and the Chinese pirate app store, and adds English to the user interface.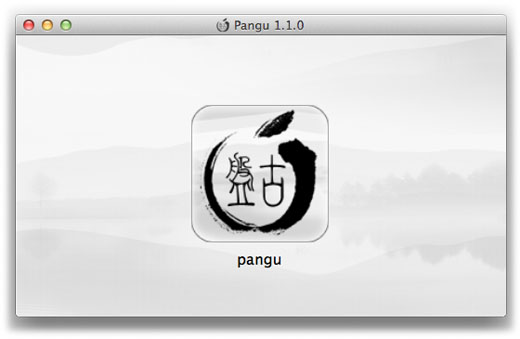 Pangu is compatible with all iPhones going back to the iPhone 4, all iPads except for the original model, and the iPod touch 5G running iOS 7.1 or iOS 7.1.1. OS X users can jailbreak iOS devices untethered using the Mac version of Pangu 1.1 in just a few minutes. Here are complete instructions on jailbreaking iOS 7.1.1 on a Mac:
1. With every jailbreak, be sure to make a fresh backup of your iOS device with iTunes.
2. Download the Pangu software to your OS X computer. You can find various locations to download the Pangu software here.
3. Connect the iOS 7.1.x device to your computer via USB cable.
4. Mount the Pangu dmg file and run the Pangu application.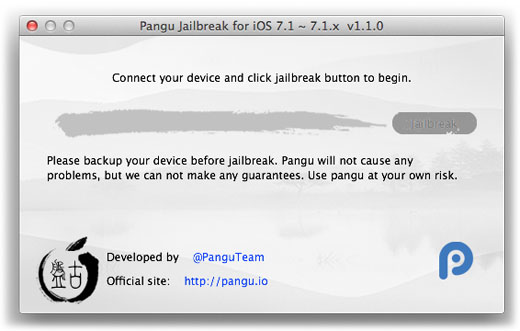 5. When your iOS device is identified, click the "Jailbreak" button on the right side of the application window.
6. On your iOS device, navigate to Settings -> General -> Date & Time -> Set Automatically -> OFF (grey slider).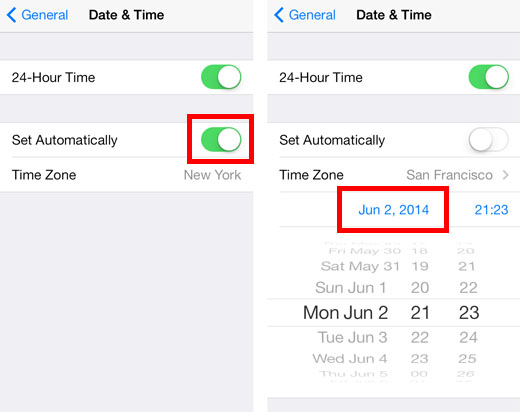 7. When the date and time appears tap it and manually set the date to June 2, 2014.
8. On the computer, the status bar will progress, and the Pangu app will install on the iOS home screen. Open the Pangu app on the iOS device and tap Continue.
9. Keep the device connected and do not close the Pangu app while the jailbreak is running. This step can take 10-15 minutes.
10. The iOS device will reboot multiple times, but once complete iOS 7.1.x is jailbroken. The time will reset itself back to Set Automatically and the Cydia jailbreak app store will be installed on the iOS home screen.
Check here for Windows instructions on how to jailbreak iOS 7.1.x with Pangu.