Submitted by Bob Bhatnagar on
Pangu has taken the iOS 8 world by storm, with a stable release heralded by saurik himself, the creator of Cydia. Now jailbreaking any iOS device running iOS 8 through iOS 8.1 is possible in a few easy steps. Users looking to install tweaks and software from Cydia must act quickly, as the iOS 8.1.1 beta has been discovered to kill Pangu.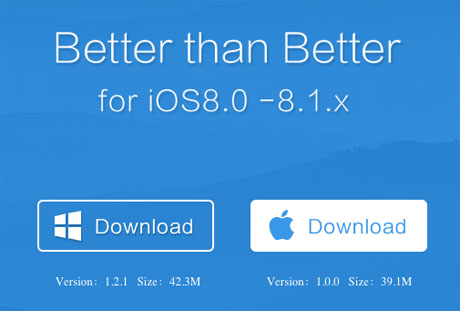 This means when iOS 8.1.1 is released to the general public, the window to jailbreak iOS 8.1 will close forever. In any case, the Pangu Team recently launched a Windows version of the Pangu jailbreak tool. The wait is over for Mac users, as Pangu for OS X has officially arrived. Follow the instructions below to jailbreak iOS 8 with Pangu on Mac OS X.
First make sure the iOS device (iPad, iPod touch, or iPhone) is updated to 8.0 or later. In order to help prevent problems, it is recommended to update to iOS 8.1 using the latest version of iTunes on a computer.
Those with previously jailbroken devices (iOS 7 or earlier) should backup, then restore to iOS 8.1 using iTunes to get started. Once the firmware is updated the jailbreak process can begin.
1. Backup your iOS 8 device with
iTunes
,
iCloud
, or both.
2. Turn off the Passcode under Settings -> Passcode -> Turn Passcode Off.
3. Turn off Find My iPhone in Settings -> iCloud -> Find My iPhone.
4. Download the Pangu Jailbreak tool from
http://en.pangu.io/
to Mac OS X.
5. Double-click the Pangu disk image file (.dmg) to extract Pangu8.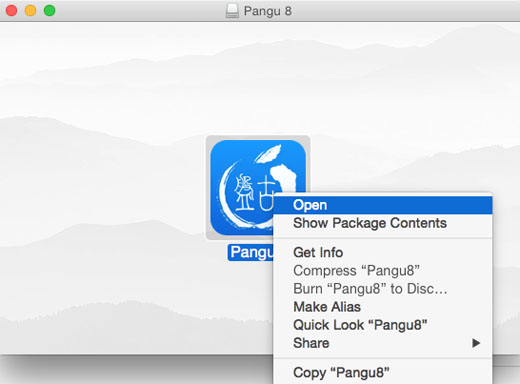 6. Control-click or right-click the Pangu8 application and select Open.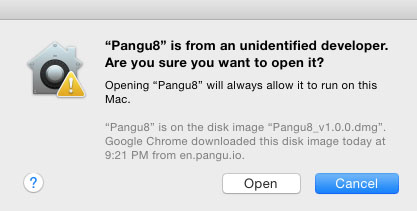 7. If prompted by a security dialog box, click Open to confirm.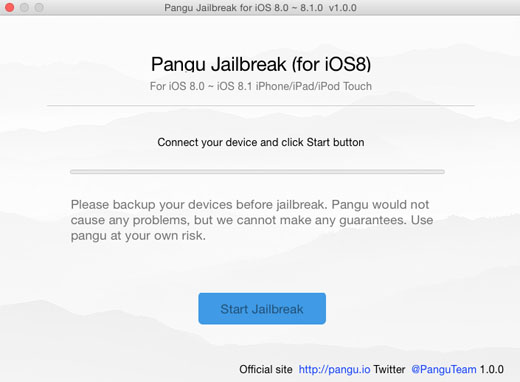 8. Connect the iOS 8 device to the Mac with a USB cable.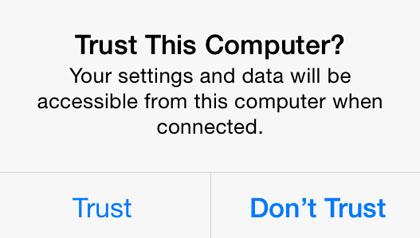 9. Unlock the iOS device and tap Trust if the dialog appears.
10. Click the Start Jailbreak button.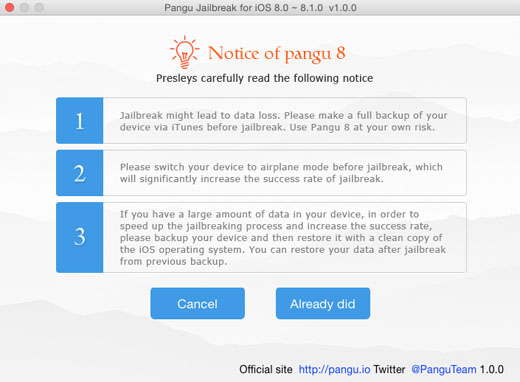 11. Switch the iOS device into Airplane Mode under Settings -> Airplane Mode.
12. Click the Already did button in Pangu on the Mac.
13. Pangu will jailbreak the iOS 8 device, do not disconnect during the process!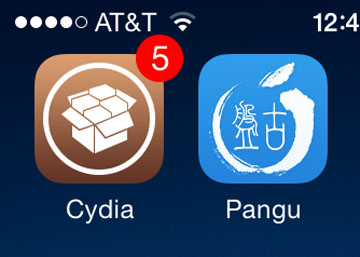 14. When complete, the iOS device will reboot.
15. Tap the Cydia icon on the home screen to launch the jailbreak app store.
16. Cydia will configure the filesystem.
17. Reopen Cydia when complete, and tap Changes -> Update to install available updates.
When all steps are complete, the iOS 8.x device is jailbroken. Stay tuned to the iPhoneFAQ Twitter feed for news and info on the latest jailbreak tweaks. Developers are working to bring custom tweaks and new software to jailbroken iOS 8 devices everywhere.