Submitted by Marshall Walker on
HiddenHelper, the new jailbreak tweak for the iPhone, allows you to use Siri without the Siri interface popping up on your Home screen. This can be helpful when you want to set your alarm or dictate a note on your iPhone while you are using the device for something else, and you don't want Siri to interrupt. For example, Siri will not interrupt your Angry Birds game by displaying the note you just dictated to her. It's a great multitasking tool.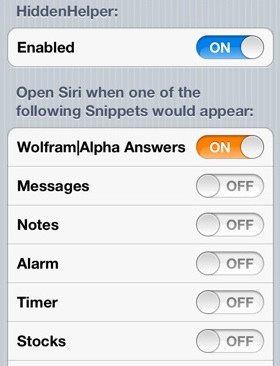 HiddenHelper also allows you to decide which Siri snippets you want displayed, and which snippets you want disabled. Asking Siri to tell you about the weather is useless without the UI because Siri displays the temperature instead of reading it to you. Wolfram Alpha queries are also pointless without Siri displaying the results.
The Siri screen not displaying every time you invoke it takes a little getting used to at first, but HiddenHelper is a great tool once you get the hang of it.
HiddenHelper is available for free on Cydia's ModMyi repo. Give it a try, you can always disable it in the Settings menu if you don't like it.