How do I restrict access to adult / unwanted content on my Safari (or other) browser in iOS 7?
If your children are often on your iPhone and you want to restrict Safari's (or Chrome's or any other browser's) access to certain websites, here is how you do it in iOS 7:
1. Go to Settings -> Restrictions and tap "Enable Restrictions."
2. You will be asked to enter a passcode to enable restrictions (you will use this passcode whenever you wish to disable restrictions).
3. Once they are enabled, scroll down to "Websites" and tap on it.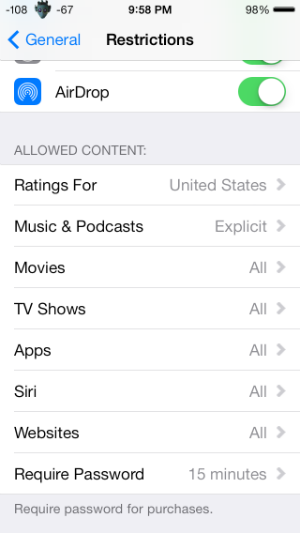 4. This will take you to a screen where you can choose to either allow access to all websites, limit adult content or allow access to specific websites only.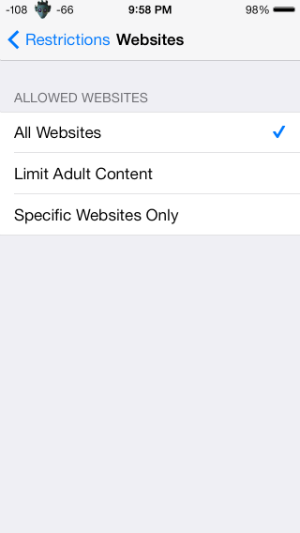 5. If you choose "Limit Adult Content," many adult websites will be automatically blocked. You can manually add websites to be blocked or always allowed simply by tapping on "Add a Website" under the "Always Allow" section or the "Never Allow" section. Once you tap the "Add a Website" button you just have to type in the URL of the intended website.
6. If you choose "Specific Websites Only" you will be presented with a list of websites that are there by default, such as Discovery Kids, Disney, PBS Kids, etc. You can manually add websites to this list by tapping the "Add a Website" option at the bottom.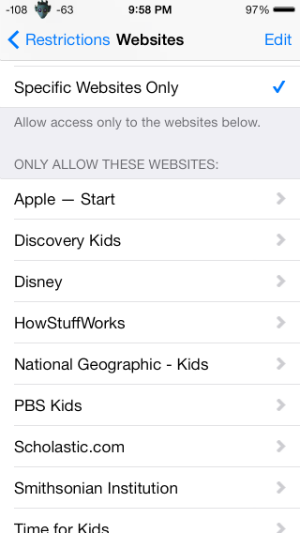 7. Once you have finished, leave Settings. Your browser should now reflect the changes you made.