Submitted by Bob Bhatnagar on
The untethered jailbreak for iOS 7 has arrived. The evad3rs have released evasi0n 7, which will free any device running iOS 7.0 through 7.0.6 to install software and tweaks from Cydia. The latest jailbreak solution also works with iOS 7.1 beta1 and 7.1 beta2. In just a few minutes, any iPhone, iPad or iPod touch running iOS 7.x can be jailbroken.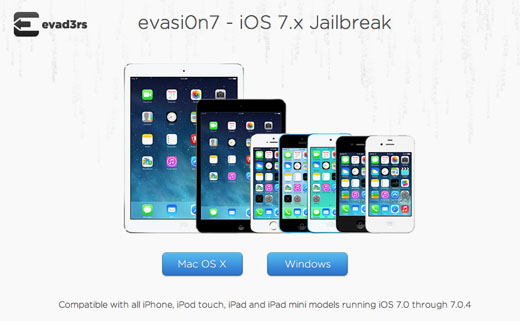 Below are instructions for jailbreaking with evasi0n on a Windows computer. Make sure the latest version of iTunes is installed before proceeding. If needed, click here for instructions on how to jailbreak with evasi0n 7 on a Mac OS X computer.
Follow these steps carefully for a smooth jailbreaking experience. Here are instructions on how to jailbreak using Windows XP and later.
1. First, backup your iOS device using iTunes and / or iCloud to protect your data. The encryption password in iTunes must be disabled. If you have forgotten your iTunes backup password, you can find instructions to disable the iTunes backup password here.
2. After the backup is complete,
turn off passcode lock
on your iOS device.
3. NOTE if you have updated iOS 7 over-the-air (OTA) this could cause problems during jailbreaking. Avoid this by restoring your iOS 7 device to a fresh copy of iOS 7.0.4 using iTunes before the next step. After installing iOS 7.0.4 with iTunes, restore your data using iCloud or iTunes.
The evad3rs are working on this OTA problem. Don't take a chance that your jailbreak process will hang thanks to a previous OTA update of iOS 7.
4. Download evasi0n 7 from the evad3rs website at evad3rs.com. Click the Windows button to download.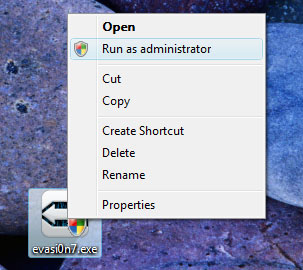 5. Extract the evasi0n7.exe file and right click the icon. Run evasi0n 7 as administrator to continue.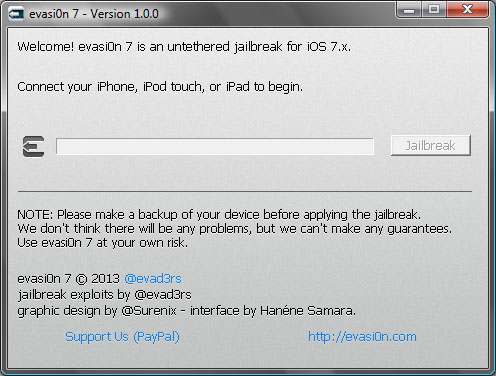 6. Connect your iOS 7.x device to the computer. Once evasi0n 7 recognizes your device, click the Jailbreak button.
7. Don't touch iTunes or iOS while the evasi0n 7 software jailbreaks your device, unless asked to do something. The software will prompt for you to touch an evasi0n icon on the iOS home screen when needed.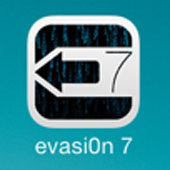 The entire process only takes a few minutes, and will reboot your iOS device more than once. When complete, your iOS 7 device will be jailbroken and a Cydia icon will be present on the home screen. Cydia is the jailbreak app store.
If the process gets stuck at some point, restart the evasi0n software and reboot the iOS device. You may need to reset using the home and sleep buttons in some cases. Run the jailbreak again starting from step 6.