Submitted by Bob Bhatnagar on
Already jailbroken an iOS 7 device with evasi0n 1.0.0? Updating to the latest version of evasi0n used to mean re-jailbreaking the device from scratch with new software. Now, the evad3rs have released a Cydia package that makes it possible to update the jailbreak to the latest version without re-jailbreaking.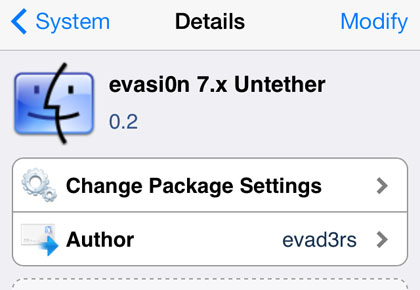 The evasi0n 7.x Untether package can be found in the Cydia app store under System or by using the Search function. Once downloaded and installed from the Cydia/Telesphoreo repository, changes included in evasi0n7 1.0.1 are implemented on the jailbroken device. This update is required for Cydia, tweaks and apps to work properly with iOS 7.