Submitted by Bob Bhatnagar on
Already jailbroken an iOS 7 device with evasi0n 1.0.0? Updating to the latest version of evasi0n used to mean re-jailbreaking the device from scratch with new software. Now, the evad3rs have released a Cydia package that makes it possible to update the jailbreak to the latest version without re-jailbreaking.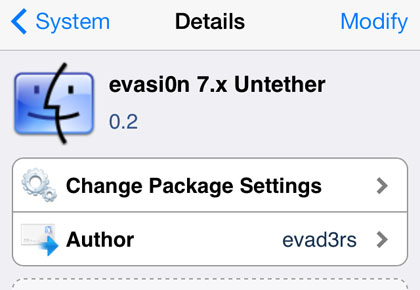 The evasi0n 7.x Untether package can be found in the Cydia app store under System or by using the Search function. Once downloaded and installed from the Cydia/Telesphoreo repository, changes included in evasi0n7 1.0.1 are implemented on the jailbroken device. This update is required for Cydia, tweaks and apps to work properly with iOS 7.
When it comes to 64-bit devices including iPhone 5s, iPad Air and the iPad mini with Retina Display, additional updates are still in the works. This means that for the time being, many tweaks and apps will not function properly on these devices. Future updates to evasi0n and the evasi0n 7.x Untether package on Cydia will address these issues. The evad3rs include the following information about version 0.2 of the package:
This is the untethered exploit installed by the evasi0n7 jailbreaking tool.

If you jailbroke you device with evasi0n7, this untether has already been automatically installed for you.

Version 0.2 of this package is what came with evasi0n7 1.0.1; it removes the TaiG splash screen and adds some features that saurik will be relying on in future updates to other packages. Users who jailbreak with evasi0n7 1.0.1 already have version 0.2 of this package installed.
So to recap, if your iOS device has been jailbroken with evasi0n 1.0.1 there's no need to install this package. Users who have jailbroken their devices with an earlier version of evasi0n should install the evasi0n 7.x Untether package from Cydia.
The evad3rs also note that uninstalling the package will remove the jailbreak. If the untether package is uninstalled with Cydia the iOS 7 device will need to be restored with iTunes.