Submitted by Marshall Walker on
Apple has released iOS 6.1.3 which fixes the lock screen security bug, and improves the Maps app for users in Japan. It is unknown at this time if the update patches the evasi0n jailbreak. This means users with jailbroken devices should avoid the update until we learn more. All other iOS users can navigate to Settings > General > Software Update, or connect their devices to iTunes to upgrade their devices.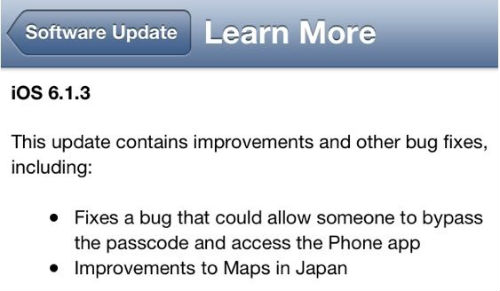 The evad3rs' Twitter feed has been quiet since the release, and the official evasi0n website has not been updated to reflect it supports the new firmware.
UPDATE: Evad3rs member MuscleNerd issued this warning to jailbreakers via Twitter: "IOS 6.1.3 is out. Jailbreakers stay away! There's no coming back to 6.1.2 JB even if you saved blobs (except iPhone4 and ipt4g."
Apple previously released iOS 6.1.2 to fix an Exchange calendar bug that reduced battery life.