Submitted by Sammy Snyder on
Jailbreakers were met with a conundrum after Apple released a major update to fix a security flaw in iOS 7. The update patched a vulnerability that according to Apple, could allow an "attacker with a privileged network position" to "capture or modify data in sessions protected by SSL/TLS." Luckily the evad3rs released evasi0n7 1.0.6 so users with jailbroken devices could upgrade to iOS 7.0.6 and patch the bug. However as most jailbreakers already know, performing the entire jailbreak process all over again can be a major hassle. This is why developer Ryan Petrich's new tweak called SSLPatch is a godsend.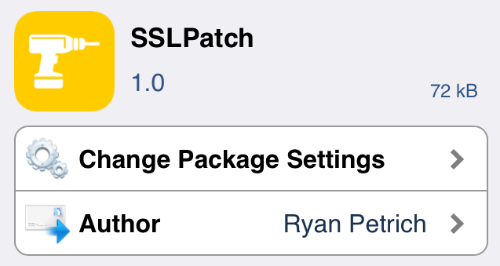 The free tweak allows users to protect their jailbroken device from the SSL security flaw without the need to upgrade to iOS 7.0.6. All you have to do is install SSLPatch from the BigBoss repo on Cydia and the job is done.
While SSLPatch is an easy fix, iOS 7.1 is expected to break evasi0n7 when it is released to the public. It is always a good idea to upgrade to the latest Apple firmware on a jailbroken device whenever possible, so you may still want to consider installing iOS 7.0.6 in the near future.