Submitted by Anders Batten on
Best Buy has been offering a lot of deals on Apple products the last few months, and today it has announced one of its best deals since the launch of the iPhone 5s. The retailer is offering "a minimum $150 Best Buy gift card when you trade in any working iPhone 5 or iPhone 4s and purchase an iPhone 5s 16GB for just $1 with a 2-year agreement".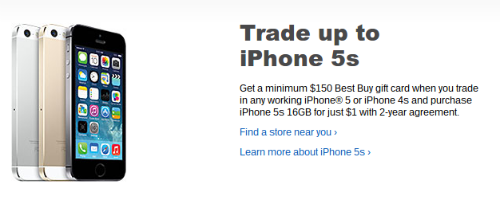 The deal is in-store only and quickly ends on March 1, 2014, so you only have two days to take advantage. Your iPhone 4s or iPhone 5 must be in good working condition, meaning it powers on, has no water damaged and no cracked display. You are also responsible for removing any data from your device before trading it in. The fine print also states, "must use gift card toward the purchase of your iPhone 5s with 2-year agreement," but it doesn't say it has to be a 16GB model (You can read all the fine print here). This means you should also be able to put your $150 gift card towards a 32GB model, which would make it only $100. Just make sure you call ahead to check if your local Best Buy has the phone you want in stock, and that they're participating in the trade-in program, before you make any trips.
We also always recommend comparing current trade-in prices before selling any of your used devices. Online buyers such as NextWorth and Gazelle normally offer more cash for used iPhones and iPads. It only takes a few minutes to compare current quotes, and you could end up getting a lot more money for your used device than you had originally expected.