Submitted by Sammy Snyder on
A few screenshots of Apple's iOS 8 have popped up on the the Chinese forum WeiPhone, and 9to5Mac claims to have verified the authenticity of the images. The screenshots reveal the icon for Apple's rumored Heathbook app, which is supposed to tie-in with the company's long rumored iWatch.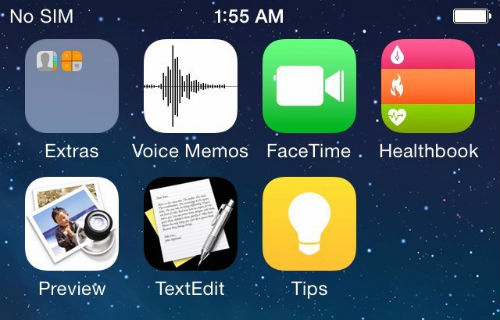 The Healthbook app is Apple's attempt to tap into the popular world of mobile healthcare and fitness. The new iOS 8 feature is a lot like Samsung's S Health 3.0, which is included on the Galaxy S5 smartphone, and Gear 2 and Gear 2 Neo smartwatches. The Healthbook app will track a users vital signs such as blood pressure, hydration levels, and heart rate, plus it will remind users to take their daily medications.
The screenshots also reveal the icons for Apple's new Tips, Preview and TextEdit applications. According to 9to5Mac, the Preview and TextEdit apps can only be used to view Mac OS X files stored in iCloud, not for editing images or text documents on your iOS device. While it is unknown what the Tips app is for, it is safe to assume it will be some kind of iPhone / iPad guide to help users get the most out of their iOS device.
Even though these screenshots have been confirmed by various reliable sources it is still unknown if they're real or fake, so take them with a grain of salt. These are also purportedly a prototype of iOS 8, meaning the look could drastically change before its official release.
Here is a look at an iOS 8 settings panel also included with the leak.