How can I block strangers from messaging me on Vine?
Vine version 2.0.0 adds the ability for users to send messages to other Vine members. You can block strangers from messaging you by following these instructions: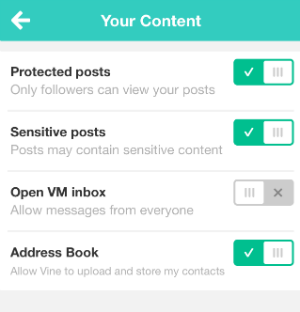 1. Tap the house icon at the top of your display from the Home page.
2. Tap the "Profile" option listed on the drop box.
3. Tap the "Settings" tab on your profile screen.
4. Scroll down until you see the "Your content" tab and tap it to open more options.
5. Tap the "Open VM inbox" slider to disable messages from strangers.
This will allow only people who you follow to send you a message via the Vine app.