Another photo of purported iPhone 6 hardware surfaced today, this one showing what appears to be an upgraded battery for the highly anticipated handset. The photo, spotted by French tech blog nowhereelse.fr, comes from a source in China. As always, take it with a grain of salt.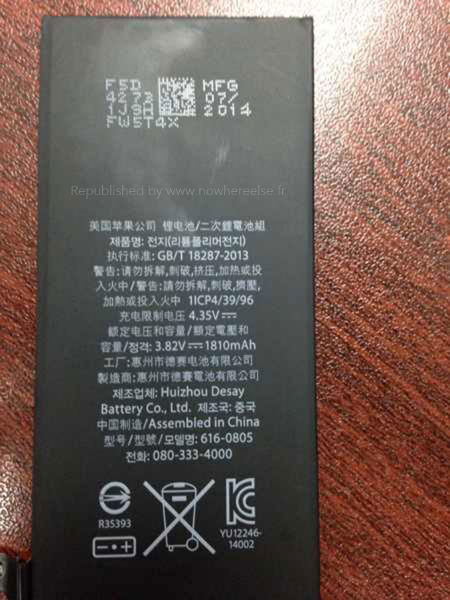 The battery in question is made by Desay Battery Co., which has been rumored to have ties with Apple regarding the iPhone 6. The photo shows that it has an 1,810 mAh (milliampere-hour) capacity, which is up from the current iPhone 5s' 1,560 mAh battery. The current battery offers up to 10 hours on LTE and 250 hours
standby. The iPhone 6 will almost certainly demand more power with its much faster A8 processor. With that in mind, the battery may not afford longer life than the iPhone 5's, but it may maintain similar performance.
Poll after poll has shown that, among consumers, battery life is near the top, if not at the top, of the list of priorities. Apple has reportedly partnered with British fuel cell firm, Intelligent Energy, in an effort to develop new battery technology that would allow mobile devices to go days or even weeks before requiring a charge.
Considering the iPhone 6's likely higher power demand, we expect an improved battery. Otherwise there will be more than a few disappointed customers.