Submitted by Marshall Walker on
There hasn't really been any new information announced since our original iPhone 6 rumor roundup was published in June, but there have been a lot of leaked images of purported iPhone 6 parts. The Taiwanese blog Apple.club today posted pictures (shown below) showing off a fully assembled display of the 4.7-inch iPhone 6 model. The same blog also posted images of the Apple logo for the back panel, which dispelled rumors that the logo would act as an notification light. Here's what else we think we know about the iPhone 6. Remember, none of this has been officially confirmed and should be taken with a grain of salt.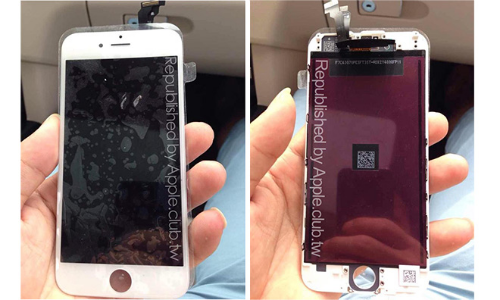 iPhone 6 Release Date
There were several rumors that production of the next-generation iPhone was delayed, but the rumor mill now claims the iPhone 6 will officially be announced on Tuesday, September 9th.
Display
One of the most repeated rumors has been that Apple will release a 4.7-inch model and a 5.5-inch model of the iPhone 6. A recent report by
Venture Beat
said the display will be made of an "extremely hard material that's slightly harder than Gorilla Glass but not as hard as sapphire."
Camera
According to MacRumors, the iPhone 6 could be equipped with Sony's Exmor IMX220 13-megapixel sensor, which would be a big improvement over the current 8MP iSight camera. MacRumors also noted that the iPhone 6 will feature a new round version of the True Tone dual-LED flash found on iPhone 5s, based on images leaked by Nowhereelse.fr.
Battery
Various sources have reported that the next-generation iPhone will sport a larger 2,100mAh capacity battery. This could mean longer battery life, but don't forget, the iPhone 6 is expected to be powered by Apple's more powerful A8 processor and have a larger display, which could be a bigger drain on the battery.
Other Features
The iPhone 6 is expected to support faster Wi-Fi (802.11ac), Category 6 LTE and NFC technology.