Submitted by Marshall Walker on
It looks like Apple is preparing for its largest iPhone launch yet. The company told suppliers it is planning to build 70-80 million next-generation devices by December 30, according to The Wall Street Journal. This is a large increase from the 50-60 million iPhone 5c and iPhone 5s units Apple ordered last year. Apple is predicting that iOS users will be drawn to the new larger sized iPhone models, and hopes for an increase in sales after a disappointing performance by the iPhone 5c.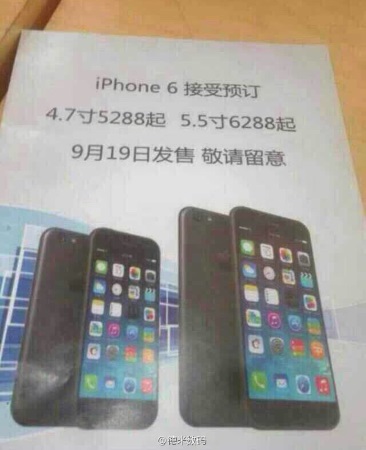 There have also been rumors that the 5.5-inch model is suffering from manufacturer delays and that it will be pushed back until 2015. Even the WSJ noted that display makers "are struggling to improve the production of the larger 5.5-inch screens".
"The production is complicated because the displays are using in-cell technology, which allows the screens to be thinner and lighter by integrating touch sensors into the liquid crystal display and making it unnecessary to have a separate touch-screen layer," explained the WSJ.
Apple is expected to announce the two new iPhone models in September alongside its rumored wearable device dubbed the "iWatch. A recently leaked flyer uploaded to the Chinese website Weibo claims to show the official release date as September 19 in China. The alleged flyer also reveals that the 5.5-inch model will cost more than the 4.7-inch model.
The iPhone 6 is expected to feature a few cosmetic changes like a relocated power button, NFC capabilities, Apple's new A8 processor and a much faster Category 6 LTE radio.