How can I recover deleted photos from iPhone on iOS 8 and later?
The Photos app on iOS automatically stores deleted photos in a special album titled Recently Deleted. Any images in this album will be retained for 30 days after deletion. As of iOS 8.1, there is no option to turn off this feature to delete photos right away.
Of course, the advantage is that deleted photos can easily be recovered within the 30-day window.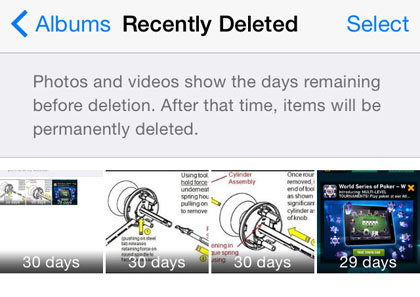 Pictures in the Recently Deleted album must be undeleted manually. To recover these deleted photos on an iOS device:
Navigate to the Photos app and open the Recently Deleted album.
Tap Select in the upper right corner.
Select the photos to restore. All photos can be selected by tapping Recover All in the lower right.
Confirm the recovery.
The deleted photos are now restored to their previous location, and have been removed from the Recently Deleted album. Click here for more information on undeleting iPhone photos that cannot be restored using the Photos app recovery feature.