Submitted by Frank Macey on
Dropbox for iOS has recently received useful new features in version 3.7 on the iTunes Store. The ubiquitous cloud storage solution provides access to photos and documents from any compatible iOS device. Now the Dropbox app includes an Action Extension for iOS 8, which allows the user to save files directly to Dropbox from a standard app share sheet.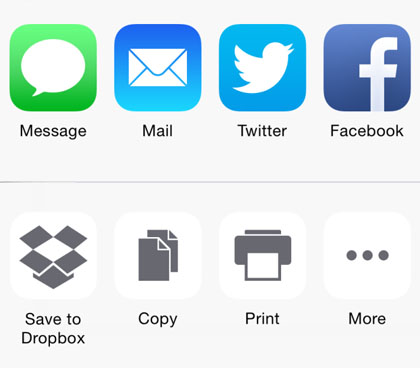 In order to use the Dropbox extension, toggle the Dropbox extension by navigating to the More menu from a share sheet. Once enabled, the Save to Dropbox button will appear automatically. Tapping this button will open the Dropbox dialog, which makes it possible to name the file and save to a location in your Dropbox folder. Files will upload to the cloud after tapping Save.
But that's not all, shared links have also been added to the iOS Dropbox app. This means instead of having to navigate to Dropbox using a web browser, links can go directly to Dropbox. Clicking a Dropbox link sent via email or iMessage will result in a prompt asking what app to open the file in. Selecting Dropbox will open the shared file directly, with a preview and the ability to save new files to your own Dropbox account.
Dropbox delivers 2GB of free storage space to new users, and basic access using the Dropbox app is also free.
What's New in Dropbox Version 3.7 from iTunes:
- New Action Extension for iOS 8: save files straight to Dropbox from your favorite apps
- Better experience receiving shared links on iPhone – when visiting a shared link, supported files will show an option to "Open in app" that takes you to Dropbox
- Bug fixes and improvements related to moving and deleting files, printing and exporting, RTF previews, and password protected files