Submitted by Thomas Estilow on
The beta 2 release of iPhone firmware 2.2 is here. There are major improvements to the Maps application. Directions can now be found in three different modes, for driving, mass transit, and pedestrians. Street View has also been added, and allows the user to see street level photographs of a location just like Google Maps on the web.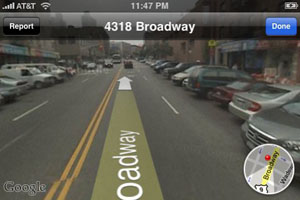 When getting public transportation directions, subways and buses are both included along with scheduled times from Google Transit when available. Want to send your location to someone you're supposed to meet? Location sharing is another built-in feature that makes this easy.
Support for audio input from third-party devices was added to the SDK, which could lead to VOIP calling applications or better audio recording with the iPhone. Other improvements in iPhone OS 2.2 include bug fixes for stability, keyboard lag, and accelerometer issues.
Still no sign of push notification services or cut and paste functionality. Two beta versions down... how many more to go?